5 tips for increasing sales with bespoke packaging
Product packaging was initially designed for keeping your products secure and preventing damage during transit. Although this is still important, branded and bespoke packaging is becoming increasingly popular as businesses compete to stand out from the crowd. '
Packaging can make a product, and remarkable packaging can make a product remarkable
', here are a few tips on how you can do just that…
1. The window to your brand
We are firm believers in making a great first impression. Branded packaging is the window to your business before the consumer reaches your product.
Bespoke packaging allows the opportunity to be creative, unique, eye-catching and most importantly – memorable.
To be memorable means to be worth remembering or easily remembered, usually from being special or unusual.
Examples of this include:
Making it reusable
- for example,
Taste. have designed a reusable box which turns into a planter for herbs.
|

Keep the customer in mind - consider what your audience may be expecting before signing off on a packaging design, will they need to reseal or reuse the packaging whilst using your product?
Humour
- packaging doesn't have to be straight forward or boring, add some humour to make your customers smile and attract customers to your product.
A study conducted in 2018 by the Paper and Packaging Board and IPSOS showed that 72% of consumers agree that packaging design can influence their purchasing decision. Packaging design is seen to be more important when buying a gift, with eight in ten agreeing that packaging design can influence their gift selection (81%). Seven in ten say they are more likely to buy brands that package their products in paper or cardboard than in other materials because they are better for the environment and less wasteful.
At Tiny Box Maker, we offer a bespoke service for our customers. Our team are extremely knowledgeable in their field and can provide expert advice for your packaging solution.
Are you looking for packaging for a specific product, or a range?
Get in touch with our friendly box makers, send your products to our factory and they can collaborate with you and your team to come up with the perfect packaging to really make your brand stand out.
An example of our work for Irn Bru: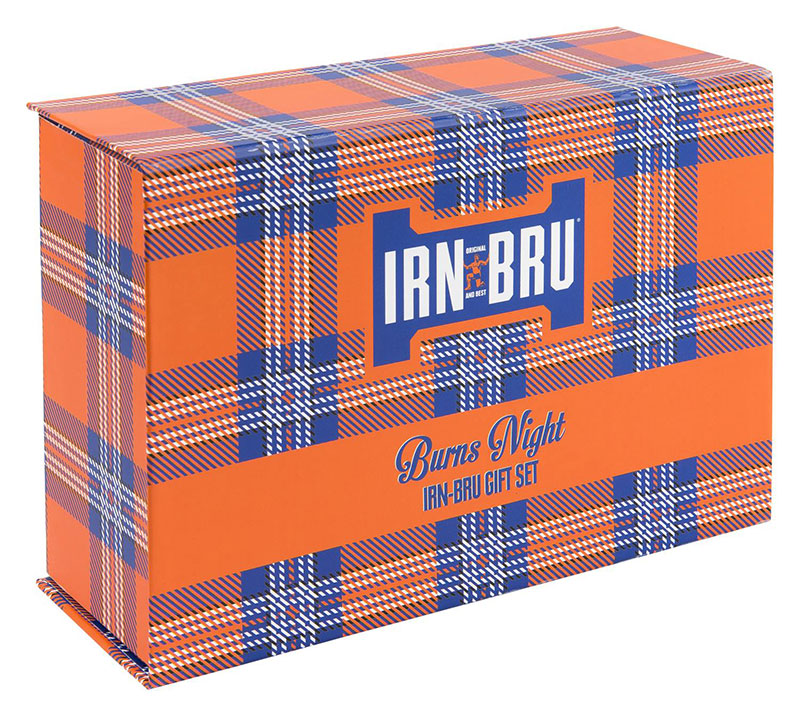 Orange and blue tartan is immediately recognised and associated with Scottish drinks brand, Irn Bru. It leaves a great, memorable first impression and serves its purpose for the celebration of their national poet to reflect their heritage.
2. Be Environmentally Friendly
Sustainability is becoming increasingly important to businesses and consumers alike.
2019 has been named the year of environmental activism and since Sir David Attenborough's 'Our Planet', concern for the environment has never been so prominent.
Our ethics are very important when producing our packaging, so all of our box board is made using recycled fibres. We source our paper coverings from sustainable forests and all our boxes are recyclable once used.
3. Multi-purpose Packaging
Packaging doesn't have to be a 'one-time thing, then bin' scenario, many brands are now utilising the opportunity for multi-purpose packaging. It's a great way of reducing waste and challenging designers to re-think the purpose of packaging.
Not only does this save our landfills, it also acts as a fantastic reminder of your business branding resulting in repeat business, especially if it is eye-catching and original.
Psychologically, when consumers are aware of a multipurpose packaging, they are willing to spend more for the value for money.
When packaging looks premium, customers are more likely to return as it enhances their experience and the memorability of the product.
We recommend using a luxury thicker board to ensure the longevity of your packaging to have a second life after use. Speak to our team who will suggest the best fit for your item, and thereafter!

Some good examples of multipurpose packaging include:

Puma have minimized their packaging by moving away from fully boxed packaging and have now included a reusable bag for transporting your trainers whilst they aren't being worn.

|

This mug packaging is made completely from cork which can be broken down to make several individual coasters.
|
All of these designs are innovative and brilliant options for reducing the amount of non-recyclable packaging. Other ways you can multi-purpose your packaging as storage containers are as follows:
Desk Organisation - small boxes can be used to organise paper clips, drawing pins, rubber bands and other stationery items.

Bathroom - another multi-purpose option would be organisation for cotton buds and cotton pads in the bathroom.

Bedroom - Have you ever misplaced a watch or a necklace? Repurpose a box to store your loose jewellery and keep them safe when not wearing them.
Business
- Recycle boxes by using them for filing storage, stationery organisation or decorative purposes.
4. Stay on Trend
Keeping up to date with trends is a great way to promote your business. However, it is also important to stay loyal to your brand so that your core values read through.
Colour psychology is very powerful in packaging, there have been lots of studies to show which colours work best for consumer purchases. For example, white represents cleanliness and sophistication in a brand, too much colour reduces 'class'. Another example is blue – which works particularly well in the packaging industry – darker shades are more professional and lighter shades are calming, a more mature target audience would have a preference towards the latter.
At Tiny Box Maker, we stay on top of all the latest developments in the industry so we can provide you with the most on trend ideas for your market.
Current trends forecasted for 2019/20 include:

An E-commerce friendly approach, such as using letterbox friendly sizing for better cost and efficiency.
Personalisation. As bespoke packaging is becoming increasingly popular, people are leaning away from the plain stock and into the custom world.
Sustainability. As mentioned previously, the eco movement is becoming more and more prominent. People are prioritising a recycled and recyclable finish.
Minimalism. After the Scandi movement, minimalism is coming into its own. With less distracting patterns, and more clear and concise designs.
Bold colours and effects. Brands such as Coca-cola, Innocent smoothies and more are bringing the bold colours back around, and they're a sure way to get your brand seen. If you need any advice on how to make bold colours work for you, speak to our team today.
5. Corporate Gifting
What better way to remind customers of your services than gifting them with a branded packaged product? It's a great way to build relationships whilst subtly advertising your business. Gifting is a brilliant acknowledgement for the business your customers have given you throughout the year, a professional and well thought out gift shows your company is willing to go the extra mile.
Some corporate gifting options include wine bundles, candle sets, pamper kits, professional notebooks, gourmet food hampers, craft beer and much more.
We can produce snug fit cardboard or foam inserts in our boxes to comfortably house products in your bespoke box. Bespoke packaging makes corporate gifting special as it adds a personalised element to a well thought out gift.
At Tiny Box Maker, we pride ourselves in producing high quality bespoke and semi-bespoke boxes. We are enthusiastic about creating the best possible packaging with an energy that transforms your gift box into something exciting and personalised to compliment your brand.
Get in touch with a member of the team today to start the design process for your one-of-a-kind packaging solution.